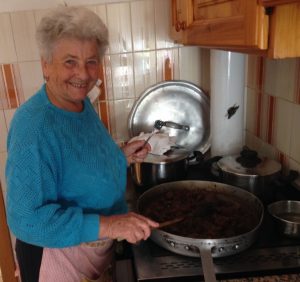 Over the years, when I needed to imagine a place of comfort, it was with my beloved cousin Irma, at her kitchen table.  Today, January 2nd, would have been her 84th birthday.  In July of 2020, we received the most difficult news from our cousins in Italy that she had left this world. Irma felt like more than a cousin, more than a friend. She was a living connection to a way of life that allowed me to see into my family's story.
Irma seemed to see right into my heart, to know what I needed.  She baked me a cake for my birthday the year my mother died, my first birthday without her. She had the remarkable ability of explaining things in a simple way so that I could understand them.  I learned the meaning of the Italian word "magari!" – "If only!" – from her delightful examples of what might invoke such a response. 
Irma often anticipated my questions and answered them before I could even ask them.  She had an intuitive sense over the years to tell me what I wanted to know about my ancestral culture, even before I knew it was important, which I attribute to her close ties to her traditional culture. She taught me rhyming sayings about everyday life, often humorous but always wise. On our last visit, she showed me on the calendar when to plant the seeds she was giving me in accordance with the phase of the moon.
I feel indebted to Irma at the deepest level.  Her knowledge is at the center of my understanding of Trentino. She embodied a direct relationship with nature and with the cycles of life that gave her a deep sense of knowing. Looking into her bluest of eyes there was no pretension, only authenticity. She never said an unkind word to me about anyone, yet still spoke the truth.
Although Irma knew hardship in her life, having lost her father at a young age, and experiencing World War II as a young girl, she emanated joy.  Irma and her mother, Maddalena, operated an inn, Casa Maddalena, in the village of Palù del Fersina, where she was born. She found true love in my cousin, Angelo Bortolamedi, gave birth to two beautiful sons, and lived surrounded by a loving extended family, including in-laws, grandchildren, and friends to the end. Seeing her multi-generational household, with children and grandchildren nearby, opened my eyes to a way of life that is often missing here in the US with our dispersed families and long commutes to work. Their proximity to each other and to work and school has allowed them to weave their lives together in a most beautiful way.
In addition to Italian, Irma spoke Mòcheno, her mother tongue, and a protected language of the Valle dei Mòcheni in Trentino. When I visited Irma in 2009 to interview her about her life for my dissertation on women's wisdom and folk traditions in the Trentino culture, Angelo had died only a few months earlier.  She told me that when she went to visit his grave to talk to him, inexplicably she spoke in Mòcheno, even though they had always spoken to each other in Italian.
The Mòcheni have held onto to their ancient traditions, including Carnevale and the Stela, the whirling lighted Star carried to each farmhouse between the end of the year and the Epiphany, treasured rites that are still celebrated today.
Claudio Fabbro, author of the beautiful book I Mòcheni, ritorno nelle valle incantate, writes that at one time, on the house of every Mòcheno no matter how poor, there would have been an inscription:
Peace to the house
Joy to the guests
Compassion for the poor, that need help
And health to the traveler that passes
As a guest in her home, that is how I felt.  Peaceful. Joyful. Held in the nurturing warmth of her presence that radiated out like the wood-fired stove she masterfully cooked on. Nourished with food harvested from her abundant garden right out the back door. Irma was the heart – and hearth – of her home. 
Over the long years of our friendship, she welcomed our family into her home many times and hosted us.  My immediate and lasting memory will be of us laughing together in her kitchen or in the stube, the wood paneled room downstairs used for special occasions, in the company of family.
The exceptional food Irma prepared has left a lasting impression.  Giuliana, my great-niece who visited Irma nine years ago as a young girl with her family, still requests "Zuppa di Zia Irma" made with cheese tortellini for her birthday meal.  Irma's warm apple strudel served right from the oven for breakfast along with caffe latte was practically venerated by my husband.
Irma tended to things. Her kitchen, home, and garden were in order, in a caring, intentional way. That care extended to her family, friends, and guests. Nothing was wasted. Her fine example reminds me that getting things "in order" in the world begins at home.
Our lives have been blessed knowing Irma, whom we loved dearly. Her beautiful light shines on in her children and grandchildren. All of us who knew her carry the glow of her memory. Like the Star of Palù, may Irma's light guide our way.
With love and fondest memories of Irma Battisti: 1937 – 2020 from her family in the USA