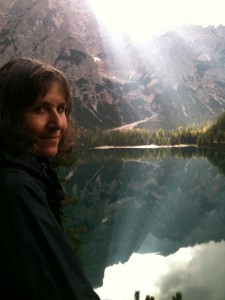 Mary Beth Moser, Ph.D. earned a doctorate in Philosophy and Religion at the California Institute of Integral Studies (CIIS) and has a Master's degree in Women's Spirituality. She is passionate about her ancestral heritage, which became the subject of her doctoral research. Her dissertation, The Everyday Spirituality of Women in the Italian Alps: A Trentino American Woman's Search for Spiritual Agency, Folk Wisdom, and Ancestral Values (ProQuest 2013) received the Kore Award for best dissertation in Women and Mythology from the Association for the Study of Women and Mythology. In her study, Mary Beth utilizes archaeology, folk culture, and oral interviews to gain insights into the everyday aspects of women's lives that give them meaning and promote the cycle of life.
Mary Beth gives presentations and workshops on her scholarly research at colleges, in her community, and at conferences. In addition to her visually-illustrated lectures, Mary Beth's published work appears in a variety of sources, a partial listing of which may be found here.
Mary Beth currently serves as president of the Seattle Trentino Club, one of numerous circoli (circles) around the world whose members celebrate their shared cultural heritage. When she is not traveling the back roads of Italy, she writes and dreams among the tall trees on an island in the Salish Sea where she lives.
Mary Beth acknowledges that she lives on ancestral lands that were the traditional home of the sx̌ʷəbabš Coast Salish, the island's first people, who were forcibly removed and relocated. Their historical relationship with the land continues today. Mary Beth honors this land and the sx̌ʷəbabš past and present.
"I am grateful to my ancestors, notably to my immigrant grandparents, Edvige Albasini, Emanuel Faustini, Anna Casagranda, and Giovanni Moser, and to my parents, Lena and John Moser, whose hard work has granted me the privilege of an academic education and whose values have influenced my life. I am particularly grateful to Dr. Lucia Chiavola Birnbaum for her mentorship and for her path-finding work in feminist cultural history. My heartfelt desire is that others will be inspired to make an ancestral journey to learn about the folk wisdom in their own culture."