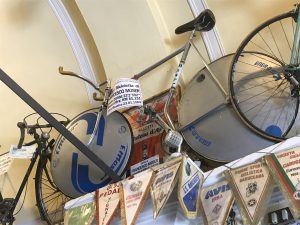 As a tribute to a Trentino bicycling legend, I am posting an excerpt of an article from 15 years ago, published as "My Tour du Trentin," with an update at the end. Happy cycling, everyone! 
With the completion of the Tour de France last month, a three-week bike race covering 2000 miles, I have bicycling on my mind. As a bicycling enthusiast, and an Italian American, I was delighted to learn that one of the189 participants in the 2004 Tour, Gilberto Simoni of the Saeco team, is from Palù di Giovo in Trentino. This small village of 500 is the hometown of my cousin, Francesco Moser.
Avid bicycling fans may recognize Francesco's name from the record books. He won many firsts over the course of his 15-year racing career, including the Giro d'Italia, the Paris-Roubaix, and other classics. In 1984, he set the world record for the hour ride on an outdoor track at altitude, thus breaking the record set by Eddy Merckx in 1972. His record setting distance was 51.151 kilometers in one hour (31.8 MPH), earning a place in history. (In the world of cycling, the third decimal place is significant). Francesco Moser is still recognized for this prestigious, most difficult accomplishment. A decade later, at age 42, he rode it again as a personal test to beat himself, which he did.
I first learned of Francesco in 1981 when I arrived in the valleys of Trentino in Northern Italy to do genealogy research. As I walked into one of the small villages, I felt particularly welcome when there, painted on the road, was my surname, MOSER! Later I learned from a resident in town that a race had gone through this way. As a sign of encouragement, the supporters of Francesco had painted his name on the street along with the letters VV an acronym for ViVa – long live MOSER!
In Trentino the surname is pronounced Mosér, with the accent on the second syllable. When I would introduce myself in Trentino, inevitably someone would tell me that there was un professionista with that name. I was thrilled to know I shared a cognome with a famous, respected bicyclist, especially since I love to ride recreationally. Maybe there was a genetic link to this passion! I asked the residents of his hometown where I might meet him; I went to a bar where he sometimes went, and even wandered up the street where he they told me he lived with no luck of a chance meeting.
Over the years on my trips to Trentino, the outcome was the same – always hearing about Francesco Moser, even visiting the MoserSport bicycle shop outside of Trento where he sold Moser brand bikes, other equipment and clothing, but, alas, never meeting him.
Finally, in August 1995 my opportunity came. I was staying in the village of Ceola in the Val di Cembra at the Agritur Ress. At dinner, Pia Ress, the delightful proprietor, told me that a group of bicyclists from all over would be arriving that weekend for a bike ride with Francesco! Every year, she said, he participates in a 'little' ride of 50 winding mountain miles with the locals in an event called Ritrovarsi con Francesco. On Sunday morning, they would be riding past the agritur.
On the evening before the ride, I learned there was a bike exposition in his nearby hometown as part of the event. I hurried over, found the location and learned that Francesco was there! I waited for him to be alone, approached him, and in my best Italian introduced myself as his cousin from America. He laughed in surprise and welcomed me warmly. My dream to meet him had come true.
From my roadside seat the next morning at Pia's, I watched as hundreds of colorful riders sped by. It was hard to tell which one was Francesco, but it didn't matter, as we cheered for everyone. Afterwards, in his town of Palù di Giovo where the ride ended, there was an outdoor festa with food and awards. I was thrilled to get my photo taken with him and he willingly autographed a poster. He seemed so unassuming for all his fame and glory. I read later that he was one of twelve children; his youth was spent in the fields around his home, after losing his father at age thirteen. Perhaps this hard work in the outdoors accounted for his focused ability to be a world champion and his down-to-earth presence. After his professional bicycling career, he returned to his hometown, becoming a respected businessman, tending vineyards, making wine, running for mayor, making bikes, and raising a family. He has shared his prosperity.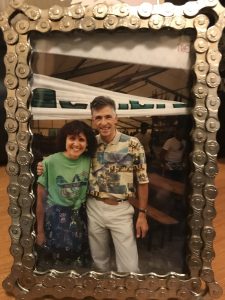 I confess that I can't show – yet – on paper that Francesco and I are cousins. Both of our Moser ancestors lived in the village of Fàida di Pine as far back as 1517, a likely place for our family trees to intersect. (Most of 200 residents there, I was told, carry the name of Moser!) In 1732, Tomaso Moser married and carried the beginnings of Francesco's family line to Palù di Giovo, (about 30 miles away) according to Padre Remo Stenico in his book Momenti di Vita about the history of the villages in that region. Perhaps our kinship goes back before Fàida, to the time of the colonization of the central Alps in the 10-12th centuries. Our common ancestor may have been one of the hearty folks that came from Bavaria called by the lords of the territory to clear the land of the pine-covered plateau and till the soil. Padre Stenico says the name Moser comes from the word Mos, for swamp. Francesco and I are swamp people. But more than that, we share a rich heritage of the village life that characterizes Trentino.
2019 UPDATE: Last fall I visited the beautiful hilltop shrine to the Madonna del Ghisallo, protector of cyclists, near Lago di Como, where one is rewarded with sweeping views. Inside the Madonna's chapel there are several bikes on display given to her as an act of gratitude, including Francesco Moser's record-winning bike. Next to the church is the fabulous modern Ghisallo Cycling Museum which includes a wealth of bicycles and memorabilia, including Francesco's pink jersey from the 1984 Giro d'Italia. Francesco Moser and his family now operate a winery in Palu di Giovo, as well as an Agriturismo where people can stay. One of the Moser wines is named 51.151.